Buck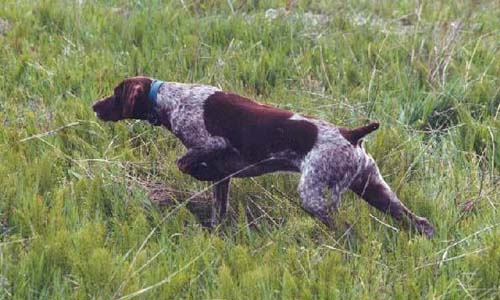 Buck (Chippewa Starbuck) - born June 5, 1993 from my own hunting bitch; deceased 2007.
Buck made his last points and retrieves of wild birds in the 2005/6 season as he entered his 13th year. He was best described as a strong dog (65 lbs.) with excellent searching, tracking and retrieving drive, a high level of stamina, excellent staunch pointing, and a very mellow personality - each year he was my model in my Animal Genetics class to demonstrate inherited physical and behavioral traits. He worked at close range in heavy cover and ranged out to 200 yards in open chukar country. At 13 years of age he was still actively retrieving, finding lost arrows at the archery range and searching for shed deer antlers.
Buck (and Delta) produced our current stud dog, Cody. The litter received a NAVHDA Breeders Award - one of the first ever received by an Oregon breeder.
NAVHDA test results:
Natural Ability - Prize 1 (112 pts., maximum)
Utility - Prize 1 (204 pts., maximum) at 36 months of age
Participated in 1998 Invitational - first Oregon dog ever invited