Delta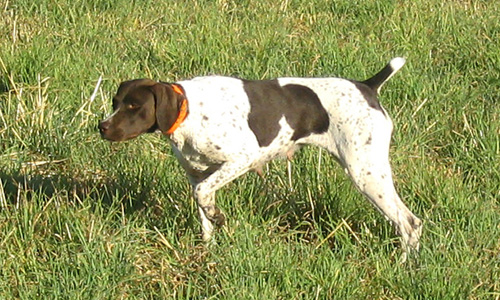 Delta (Rockpoints Big Sky's Delta) - born May 1, 2002 (Rockpoints Kennel, New York).
Delta is a hunting dynamo weighing just over 50 pounds. She ranges out well, then does a good job of holding birds out to 200 yards and beyond. She has a very good nose and is an excellent tracker. She also has a very soft mouth so when she catches a cripple alive it comes back unmarked.
Delta produced her final litter (6 puppies) in July, 2010 from a mating with Vader (Cody x Gracie son); all puppies have gone to their new homes from Arizona to Alaska. Delta has previously produced four litters with Cody - All have earned NAVHDA Natural Ability Breeders Awards. She joins only 12 other bitches that have earned as many NA Breeders Awards in the 30 year history of NAVHDA. Several Delta/Cody pups have pointed and retrieved wild chukars and pheasants by 4 months of age, and individual pups have retrieved over 200 wild birds before their second birthday. There are currently 36 Delta/Cody pups hunting a wide array of species from Tennessee to Alaska.
NAVHDA test results:
Both parents are VC (Versatile Champions); her litter earned a NA Breeders Award as did a previous litter from a mating of her sire and dam
Natural Ability test - Prize 1 (112 pts., maximum) - 16 months of age
Has produced four Natural Ability Breeders Award litters
OFA hip evaluation: GOOD